Oxford Abdominal Aortic Aneurysm (OxAAA) Study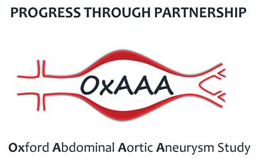 OFF THE PRESS! Our latest publication in Annals of Surgery describes Attratin as a novel protein for predicting Growth of Aneurysm!
In 2016 we secured funding for our public engagement with research activities and we launched the OxAAA survey! Almost 300 vascular surgery professionals internationally took part in the survey. The results of the survey can be downloaded fromHERE.
We successfully hosted the inaugural OxAAA Aneurysm Awareness Day! Check out the photos from our talks and interactive stations, and the NDS press release.
An aneurysm is present when an artery expands and becomes a "balloon" like structure. When left untreated, large aneurysms can burst suddenly and result in acute internal bleeding and subsequent mortality.
Abdominal aortic aneurysm (AAA) is a common pathology which can result in rupture and high related mortality. It remains an important cause of death in developed countries. The pathophysiologic mechanisms governing AAA progression in humans is not fully understood. Currently, aneurysm size remains the best criteria for recommending surgery in large AAAs (>5.5cm). This has clear shortcomings, as aneurysm size is not an absolute predictor of aneurysm expansion and risk of rupture. There is a clear need to identify better substrates for risk stratification.
Systemic inflammation and associated abnormality of other vascular territories have been observed in AAA patients. Indeed it is increasingly recognised that vascular dysfunction is not limited to the AAA segment, but also present in the vessels elsewhere in the body. As the AAA progresses, it may lead to changes of proteins or metabolites found in blood circulation. These changes can now be studied in detail using a range of modern laboratory techniques.
The OxAAA study aims to improve our understanding of the underlying patho-physiology of aneurysm progression in humans by combining the information from comprehensive plasma molecular profiling and assessment of vascular tree by functional imaging. This will lead to identification of novel biomarkers of AAA progression and new risk stratification strategies for patients with AAAs. 
Our latest publication highlights the role of FMD as a novel biomarker for AAA progression. We are seeking external collaborators to further validate the utility of this biomarker. Our protocols for FMD acquisition and analysis can be downloaded from these links. 
Related research themes